MALOSSI VARIATOR MULTIVAR 2000 MHR BMW C 600 - 650 <-2015
After the great success of Multivar MHR for Yamaha T Max, Malossi has developed the same project for BMW too!
Multivar 2000 MHR : the new variator, developed from the very experience drawn from race tracks and from modern Cad-Cam technology, is the evolution of the previous generations, thus allowing to achieve the highest performance results!
As you can see from the gear curve, our technicians concentrated on further widening the gear range, thus achieving more acceleration and pick-up as well as improving consistency in shifting. The number of revolutions instead remains nearly unvaried during the whole shifting.
We have even done better: the clearance between hub and bushing was further reduced and surface roughness minimized, in order to create a really incomparable variator!
No wonder then if with a variator that features such sophisticated engineering, your scooter suddenly has that extra sprint, a consistency in shifting, a greater mechanical "ease" at high speeds and a constancy in performance you've never experienced before with the original version.
Technical specifications
Widened gear range.
Improved shifting consistency.
Hard anodized – black.
Modified roller guides to allow greater operational linearity while maintaining maximum power.
Case-hardened and ground machined steel sliding bushing.
Hardened, ground machined, chromed steel hub.
New one-piece rollers with a better performing compound.
Supplied with two different roller sets in order to change the number of revolutions of the gear curve of your vehicle perfectly adjusting its speed and acceleration.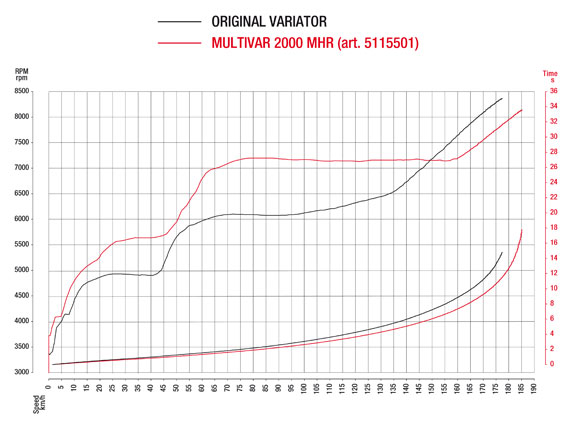 Malossi obtained the qualification of complete variator and CVT group manufacturer from the German Ministry of Transport, in the utmost respect of the highest quality standards required by KBA (Federal Motor Transport Authority).